Historical Notions #1 (again!)
Being some ramblings about a Civil War letter and a World War II photograph
Greetings via Substack! This newsletter may be a little short and hurried because things have been very busy around here. But I've managed to collect some interesting notions along the way!
---
Feature:
Tribulations of a Massachusetts Civil War Wife and Mother
For a project, I've been going through some of the letters written to the Massachusetts Adjutant-General (the chief bureaucrat – er, administrative officer – of the state's military forces). A Scottish immigrant, Adjutant-General William Schouler was already a prominent Massachusetts citizen before the war, and wrote a history of Massachusetts' role afterward. I haven't yet found anything in this correspondence relevant to the actual project, but I have turned up a few items that piqued my interest.
As you will see, Mary A. Gray had both a husband and a son in the United States Army during the Civil War. I find aspects of her letter quite fascinating and informative, and worthy of a close reading to explain why.
There is a note on the front page that the letter was answered on January 6, but these particular Massachusetts State Archive boxes only contain correspondence received, so I have no idea of how he responded.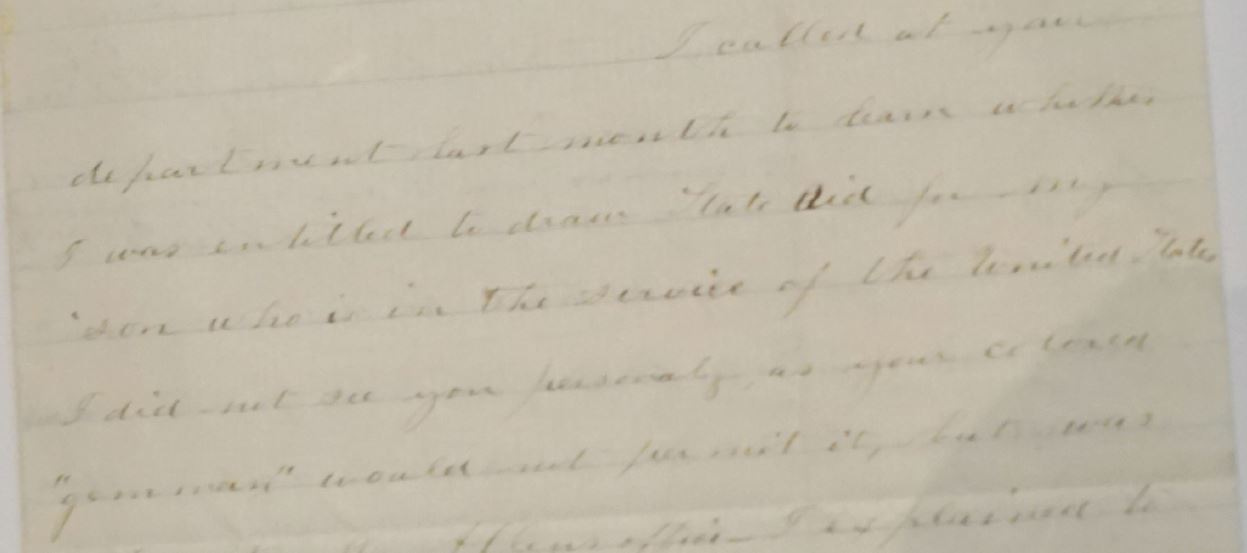 Transcript (nonstandard spellings and punctuation preserved):
So Acton Jan 4th 1862

Mr Schouler,

Dear Sir,

I called at your department last month to learn whether I was entitled to draw State aid for my son who is in the service of the United States I did not see you personally as your colored "gemman" would not permit it …
When she says "State aid for my son" she means on account of her son – the money would go to her. State aid was something that Massachusetts did because at that time, the legal and social structures of the world kept the vast majority of women dependent on a man's income-earning abilities. It was entirely likely that women and children would go hungry and be thrown out into the street because their husbands and fathers were off fighting in the war. This probability was not enough for anyone to suggest that women should now be considered eligible for higher-paying jobs than they could usually get, however. Instead they could apply for temporary assistance, which certainly helped them but also kept them dependent.
Also notice, here, the way she refers to Schouler's servant. Why does she mention his color and imply that he was putting on airs above his proper station? There seems to be some resentment there, an implication that she should have been permitted to see the Adjutant-General, but this black man interfered in the proper order of things.
but was refered to Mr Allens office _ I explained to Mr A__ the circumstances of my son, that is that I had been receiving State Aid for my Husband who was in the 26th Regt at New Orleans, but now discharged from the service for alleged disrespectful language to Dr Br[???] in regard to turning the Negroes out of the quarter,
I haven't been able to read the doctor's name on the copies I made, nor have I been able to determine what "turning the Negroes out of the quarter" refers to. For that matter, this letter is dated January 4, 1862, and that makes it clear that she is using "New Orleans" as a shorthand for the Gulf Coast. According to histories of the 26th Regiment, it was busy occupying Ship Island, Mississippi, between December 3, 1861, and April 15, 1862. This island is considerably to the east of New Orleans, though it was strategically important to U.S. plans to take the city. Presumably Mr. Gray would have been at Fort Massachusetts. If he was discharged while there, presumably it would have been in December and shortly after the United States forces occupied the island. There had to have been time for a letter from him to reach her in Massachusetts.
In any event, the 26th did not start moving toward New Orleans until April 1862, and U.S. forces didn't capture it until May 1, so she's definitely not referring to any black people in New Orleans.
Had Mr. Gray not yet returned to Massachusetts to resume his proper role as the family breadwinner? Presumably it would have been hard for him to get back without traveling on military transports. And if he was back, why did she need additional aid on account of her son? She continues:
I was told at your office a year ago that I could draw State Aid from either my son or husband but from only one at the same time, but if if I drew for my husband, and any thing should happen that he was discharged, I could then draw for my son who is under age but to [??] the assurance doubly sure, I went again last month, and said to Mr Allen that I wished to know for a certainty whether I was now entitled to draw for my son who is in the 24th Regt at Newbern, Srgt W. B. [C E] Gray Mr Allen answered, "you are entitled to Aid for your son to commence from the date of your husband's discharge," and gave me a certifficate saying "give this to your agent and he will pay you" said I, will the State be responsible for the same? he said "yes" so I came away feeling that all was right _
It appears the bureaucracy was all right with her drawing support on account of any one (male) relative, even if she still had other male relatives around. It's interesting that she says her son was "under age," which in theory could be a problem – if he was under 18 he would have had to lie to be accepted for enlistment. But other than that, what was the problem?
but on presenting the certifficate to our Agent here he said he would see about it _ I knew very well that if it was in his power to prevent my drawing, he would do so, for he belongs to a class that are sworn enemies to my husband on account of the active part he has taken in the Temperance & Slavery cause, so he has taken the trouble to go down to see Mr Allen, and came back saying "you can't have State Aid."
Ah – local politics! Local divisions based on attitudes toward abolition and temperance! She alleges that the local agent would discriminate against her for political reasons. I'm fascinated to see the two movements linked so closely, because I've read that there was a lot of overlap between them.
Now this seems rather hard for me to be deprived of the aid if I am entitled to it _ With what I have drawn the past year and what little I could earn myself, I have managed to keep myself and little boy provided with the necessaries of life, so that what my husband could send home could be paid to his creditors, but from them who are owing us I cannot collect a cent, and now that my husband is out of the service and on expence there in New Orleans, I know not what what to do unless I still continue to draw State Aid.
Here we find that Mr. Gray was indeed still "in New Orleans" (again, it was still a rebel-held city in January). I'm not sure what she means by "on expence." If he'd been discharged but couldn't leave Ship Island, it may mean that he was going to be charged room and board by the military.
We also see that she had another young son, and she reinforces what Schouler would already know – that a woman's earning power was extremely limited. Apparently her husband was in some kind of business that had people owing him (or as she says, "us") some money, as well as him owing other people money. Why she couldn't collect the debts owed to her, I don't know; I believe she should have been able to sue for payment on his behalf. Perhaps she didn't have adequate documentation of the debts or was handicapped by that same local politics.
I think that our Mr Schouler here, who is a good friend of Mr Gray, would tell you that I am worthy of State Aid, but if I am not entitled to it by the Laws of the State, I do not ask it. Now as you are the head one to go to, will you be so kind as to inform me your own self, whether under the circumstances I am entitled to draw or not? If you conclude favourably for me, will you please [issue] an order for me to hand to our Agent so that [th]ere may be no further trouble.

I ask only justice – and subscribe myself

Your hopeful Servt,

Mary A. Gray
Here she pulls out a reference to someone with the same name as the Adjutant-General! Was she hoping that they were related? A quick check of the 1860 federal census finds quite a few men named Schouler in Massachusetts, though it certainly wasn't the most common of names. It's an interesting choice, though, since presumably Mr. Gray had other friends in town as well.
Notice, also, how throughout the letter she takes great pains to not appear greedy. She even lays out how she'd been using the state aid as a means to help her go on paying the family's debts with her husband's salary, which I think would be seen as an appropriate thing to do. But not appearing greedy would be even more important. If she wasn't "worthy of State Aid" then she wouldn't be given it, and greediness and demands for benefits she wasn't entitled to could cause that to happen. People had to "deserve" charity in order to get it. (A notion that hasn't yet died the death it deserves, alas.)
And very relevant here is that I think I've found the family in the 1860 census (living in South Acton):

We have here W. H. Gray, age 40, a storekeeper who owned $1,500 in real estate and $2,000 in personal estate. Mary Ann was 37 and their son Charles S. was 4 – so in 1862 he would have been 5 or 6 years old. Apparently her older son was old enough to be off working somewhere. But, here's the rub – was there any good reason that she couldn't run the store as well as her husband did, and make a living? Women ran shops of various kinds quite often, which was an exception to the rule of limited economic opportunity, and it would always technically be "his" store. Was she being disingenuous by claiming she couldn't earn much on her own or get people to pay their tabs? Or was she just lousy at shopkeeping?
I'm now really interested to see what the Adjutant-General had to say, though I don't think my research is likely to lead me back to those records any time soon. It's possible that the local official's argument was that the state aid should be reserved for people who really needed it, not shopkeepers who did have means of support.
This information certainly puts a different light on Mrs. Gray's insistence that she only wanted what was properly due to her, doesn't it? There's always more than one side to any story.
---
Key West Nurses Photo
I also wound up doing some research at the National Archives down in DC and Maryland. Amid a bunch of other items (actually relevant ones, which was nice) I found a series of photographs taken of the World War II nurses who lived and worked at Key West, Florida. Young, pretty nurses riding bicycles, fishing, in their sitting room, and – as below – in their dining room. I'm sure there was an excellent publicity reason for these photos being taken and preserved.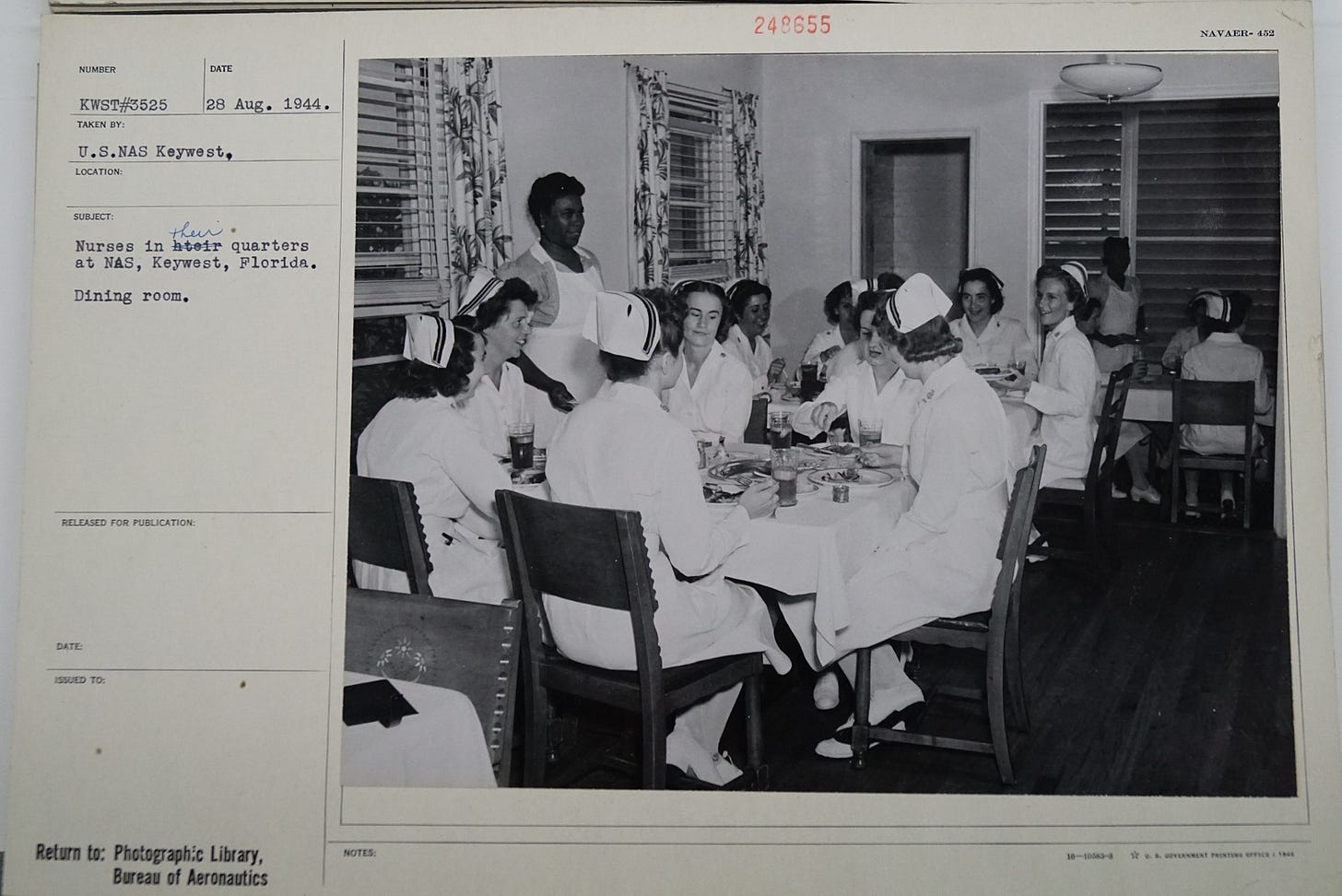 At any rate, the stark contrast between the nurses and the dining room "help" caught my attention. By sheer coincidence, after that I saw an article in Smithsonian Magazine about how the U.S. Army did recruit a few black nurses, and then relegated them to the least desirable duty they could find.
Which saves me the trouble of writing up something more detailed! See the article at https://www.smithsonianmag.com/history/armys-first-black-nurses-had-tend-to-german-prisoners-war-180969069/
---
Research Update
I have almost (but not completely) finished my review and proofreading of my 1800 U.S. Census data set. That means that next month, you might get some more maps and statistics!
I've made less progress on my review of the New Haven land records research take, which is harder to do properly when I'm tired. I'm going to try to finish it ASAP, though, because I need it in order to make some decisions so I can get started on my book proposal.
What I'm Reading
I've started Racecraft: The Soul of Inequality in American Life by Karen E. Fields and Barbara J. Fields. I can already tell that it's going to be important to shaping how I approach writing my book.
I'm also partway through Drift: The Unmooring of American Military Power by Rachel Maddow. It's been disturbing to learn that Ronald Reagan and his administration were working from the same playbook as the current administration. (It's also sheer coincidence that she just announced she's having a second book published – even though she swore she'd never write another one.)
I also read a sobering article by Ed Simon entitled "What the Fugitive Slave Law Can Teach Us About Anti-Abortion Legislation." It's what is says on the label, and can be found at https://historynewsnetwork.org/article/172058.